Display image or color for select type custom options
Compatibility:
CE
1.6.x - 1.9.2
Paid on-demand customisation
More Details

How it works

Screenshots

Features

User Guide

Video

Reviews

FAQ

Contact us
HOW IT WORKS
Though Magento provides nice functionality for adding the different types of custom options in the product, it offers no provision to display different images or color for every custom option. Sometimes store owner needs to display images or color cube when different custom options are clicked on. The graphics have always proved to appear more attractive. To overcome this problem, Emipro Technologies have developed Custom Option Image Magento Extension, so store owner can easily manage the different images and color to be shown for select type custom options on the product page.
Using this extension, the store owner can assign and remove images or color cube for the select type of custom options. The store owner can easily edit the images and color set for every custom options. Magento provides various kind of option types like Radio Buttons, Checkbox, Dropdown, multi-select, Data, File and such others but we have added other three kinds of 'Option type': Thumb Gallery, Thumb Gallery Popup and Thumb Gallery Multi Select. These three new option types are very valuable in terms of representing images and colors in a unique way to customers.
Shaping lots of Magento sites with our customizations, we have gained mastery over custom option related customizations. If you have any specific requirement for managing custom options or image with it, let us know in the live chat or email at
support@emiprotechnologies.com
. We will provide you tailor fit solution to exactly fulfill your requirements.
Features
Easily assign, edit and remove particular image or color for different custom options of select type.
Customer can select image or color with very advanced selection types: Thumb Gallery, Thumb Gallery Popup and Thumb Gallery Multi Select
Allows customer to view different images, color cube, title and price when any particular custom option is clicked on.
Admin can set different height and width of the image to be displayed for options of different input types.
If you are using third-party theme in your Magento site, there are chances that the extension may not work expectedly. In such cases, we recommend you to contact us via support ticket immediately after you purchase it. We will install & customize it as per your front-end theme.
If you have already purchased one custom option extension and want the functionality of other custom option extension, we recommend you to contact us before making the second purchase.
Any Questions?
Want customisation in our extension?
Need expert advice?
Let's get in touch!
We will guide you to the best way to accomplish your requirements.
Video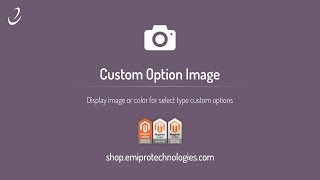 Custom Option Image
Contact Us!
Get a call back from our advisor to take your business to new heights